LM Development amd Production Processes in Film and Television (09 29364)
Academic Year 2017-2018
Archived
This list has been archived
New documentary - Stella Bruzzi 20060415385253,0415385245,9780415385251,9780415385244

Book Recommended Reading for Reality TV (week 3), chapter 3 'New observational documentary: 'docusoaps'.

Factual entertainment on British television - Charlotte Brunsdon, Catherine Johnson, Rachel Moseley, Helen Wheatley 02/2001

Article Recommended Reading. The article looks at the rise of 'factual entertainment' in UK TV in the 1990's, examining various modes, styles and formats.

Reality Television9781473911086

Chapter Background Reading. Bringing together a truly international spread of contributors from across the UK, US, South America, Mexico and Australia, this Handbook charts the field of television studies from issues of ownership and regulation through to reception and consumption. Separate chapters are dedicated to individually examining the roles of journalists, writers, cinematographers, producers and manufacturers in the production process, whilst others explore different formats including sport, novella and soap opera, news and current affairs, music and reality TV. The final section analyses the pivotal role played by audiences in the contexts of gender, race and class, and spans a range of topics from effects studies to audience consumption.
Creative Commons Attribution-NonCommercial-NoDerivs 3.0 Licence
Profile Required
Reading intentions and notes are stored against your user profile. Please create a profile to use this feature.
My notes
You must be logged in to add a note
What are item notes?
You can use item notes to make personal notes on any of your reading items. Notes are private to you and will not be shown to other users.
You can review your item notes from the list, the item page or from your profile page.
---
How do I create an item note?
To make notes, first you must be logged in. Once logged in, simply click Add note? next to the list item you wish to make notes on. You can also make notes at the bottom of every item's detail page.
Your note will be saved automatically as you type.
Have you read this?
You must be logged in to set a reading intention
What are reading intentions?
Setting up reading intentions help you organise your course reading. It makes it easy to scan through your lists and keep track of progress. Here's an example of what they look like: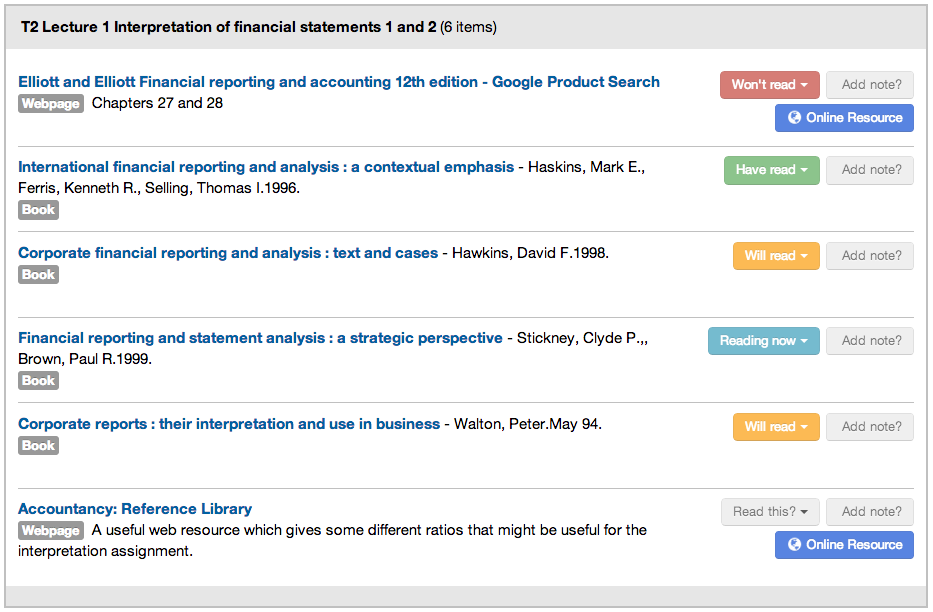 Your reading intentions are also stored in your profile for future reference.
---
How do I set a reading intention
To set a reading intention, first you must be logged in. Once logged in, click Read this? next to the list item you wish to set a reading intention for.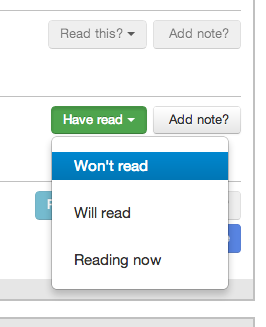 You can also set the reading intention from every item's detail page.