Group Research: The British Officer on the Western Front 1914-1918
Academic Year 2017-2018
There is an enormous quantity of published material on the Western Front and on the British experience during the war. What is listed here is an introductory sample of some of the more recent work, which will help you to familiarize yourself with the nature and course of the war, and to develop a background on British officers.

'The sharp end'; sources on combat

8 items

Armies exist to fight, and any study of the military, or of its members, should bear that in mind. I have selected a few sources which will shed light on what the fighting was like.

Fire-power: the British army, weapons and theories of war, 1904-1945 - Shelford Bidwell, Dominick Graham 20041844152162

Book Recommended An important work on how armies deal with fighting a war, and how they think about the process beforehand, which addresses the organisational and conceptual work that was necessary to integrate modern weapons into the British army's way of fighting. The book covers from the Manchurian War to the end of the Second World War, so you will need to read only the earlier portion of the book. The FWW itself is covered in pp 61-148, but the brief Prologue and the pre-war sections, pp 7-58, are also worthwhile.

Sources on the wartime army: Regulars, Territorials, and K's volunteers

7 items

The social backgrounds of officers, and their relationships with their men

7 items

Much has been written on the social and economic position of officers in Edwardian society; what is listed here is an introduction to this material. Somewhat less has been written on how officers actually interacted with their men on a day-to-day basis, although what does exist is of high-quality.

Survivors of a kind - Brian Bond 20081847250041,9781847250049

Book Recommended A useful discussion on the boundaries between memoirs and fiction, and the uses which historians can make of such material.

Internet Archive: Digital Library of Free Books, Movies, Music & Wayback Machine

Website Recommended archive.org has quite a number of older published memoirs, diaries, etc., as well as a variety of official publications (like the Army List and official statistics of the British war effort). The search feature can be a bit hit-or-miss, so it is worth being persistent and poking around the site to see what you can turn up. Alternatively, you can google old published titles and follow links from there through to archive.org. Anything you do find on here can be easily shared with your group members, usually as a PDF, although other formats are often also available.

Discovery | The National Archives

Audio-visual document The National Archives, Kew, hold vast collections of material. Their holdings of personal papers (like letters and diaries) are comparatively sparse, but they are the first port of call for anyone wishing to look at any official documents.

Collections | Imperial War Museums

Webpage The Imperial War Museum holds large collections of private papers, including letters and diaries, and also has an extensive sound archive of recorded interviews with veterans. The initial search is quite basic, but you can then filter the results in various ways to help narrow the results down to those relevant to the First World War.

Primary sources available on campus

32 items

This is by no means an exhaustive list of what is out there, although it does focus on the published memoirs, diaries, collections of letters, etc., in the library. Beyond what the library has, I have some further published primary sources in my own collection, and can point you to other published material available elsewhere. We can discuss in detail what sources you might find useful as you focus your research.
Creative Commons Attribution-NonCommercial-NoDerivs 3.0 Licence
Profile Required
Reading intentions and notes are stored against your user profile. Please create a profile to use this feature.
My notes
You must be logged in to add a note
What are item notes?
You can use item notes to make personal notes on any of your reading items. Notes are private to you and will not be shown to other users.
You can review your item notes from the list, the item page or from your profile page.
---
How do I create an item note?
To make notes, first you must be logged in. Once logged in, simply click Add note? next to the list item you wish to make notes on. You can also make notes at the bottom of every item's detail page.
Your note will be saved automatically as you type.
Have you read this?
You must be logged in to set a reading intention
What are reading intentions?
Setting up reading intentions help you organise your course reading. It makes it easy to scan through your lists and keep track of progress. Here's an example of what they look like: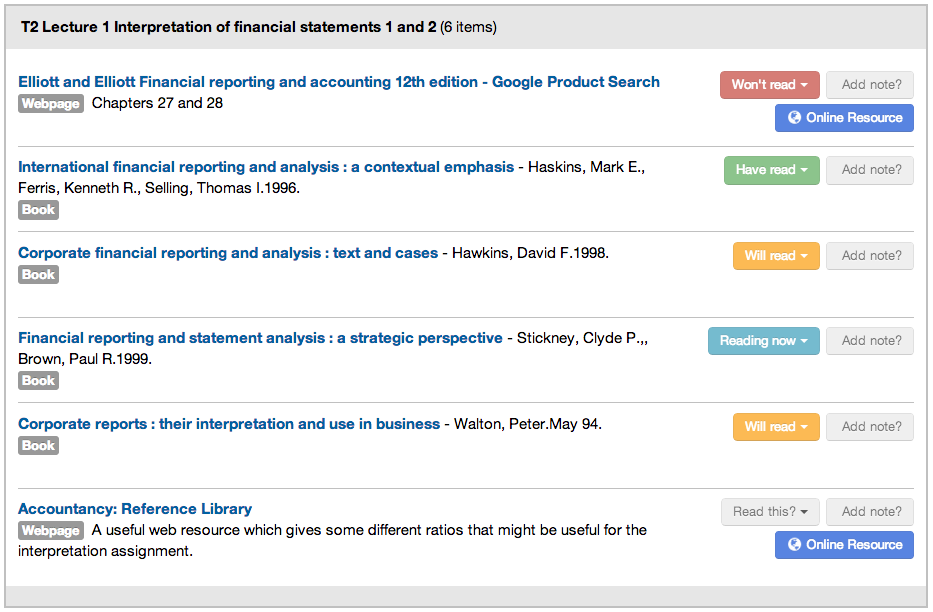 Your reading intentions are also stored in your profile for future reference.
---
How do I set a reading intention
To set a reading intention, first you must be logged in. Once logged in, click Read this? next to the list item you wish to set a reading intention for.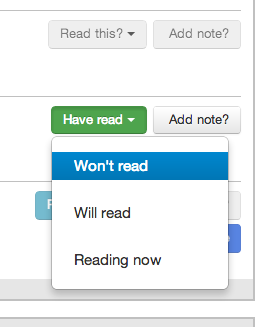 You can also set the reading intention from every item's detail page.